Welcome To
Alpine Abacus Academy
We have been in the field of education for the last 20 years. Our experience has been very rich and rewarding and we have come to understand the needs and the difficulties faced by younger children while learning.

One of the difficulties we noticed is that many children fear arithmetic. Most of it has to be learnt by rote and they find it boring and abstract. But we are always on the look out for new methods and techniques that make learning pleasurable and yet efficient. Therefore, when we became aware of the Abacus technique, we decided to try it on a small batch of students.

The results were amazing ! Using an abacus, the children were able to add and subtract numbers almost instantly. Soon they were able to visualize and calculate them without using an abacus. They acquired speed, accuracy and concentration but above all, they lost their fear of arithmetic and began to enjoy it. After a little more practice, they were also able to multiply and divide.

Alpine Abacus Academy is an exclusive institute to impart and inform interested individuals to use of the Abacus. We train teachers and help people set up abacus training institutes on a franchise basis. If you are interested in setting up an abacus training institute in your area, please get in touch with us, we would be happy to initiate a dialogue.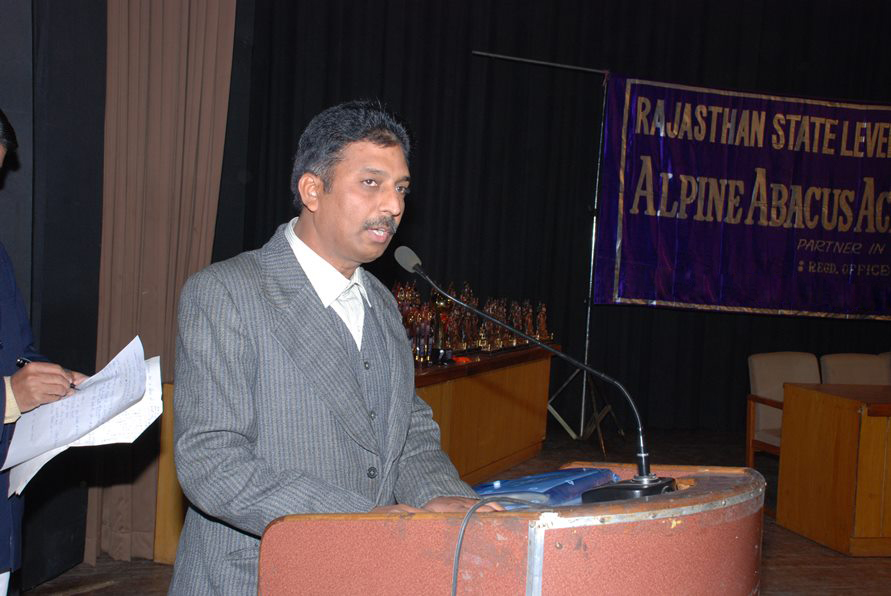 Mr. Sudesh Singhal
Co-Founder/Director
Our
Mission
Our mission is to enhance the children's hidden talents. Every child has some special qualities. We explore the qualities within the child and provide the children a platform where they can develop their mental abilities. We help them to make a good citizen and teach them how they can be helpful to others. By doing so they can discharge their duties as a good citizen of the country. Our objective is to make the children intelligent and honest.
Our Vision
To enhance the mental ability and calculation power of the children where ever they are.
How
it Works
Abacus is a method using which the children learn how to calculate fast ? In the beginning , they learn on the Abacus instrument. They practice how to add, subtract, multiply and divide . After the practice of some months they start calculating small sums without using abacus. This process carries on, and at one stage the children are able to calculate even faster than a calculator. The Abacus learning enhances concentration, listening power , skill in Arithmetic and overall development of the children.
Careers
By establishing Abacus Training Institute one can earn a handsome amount. Any person who wants to establish an Abacus Training Institute can do so by investing a small amount. The returns are very good and one can run the institute even he/she is in a regular job. The classes are held weekly on Sundays. So one can earn extra income with the regular job.